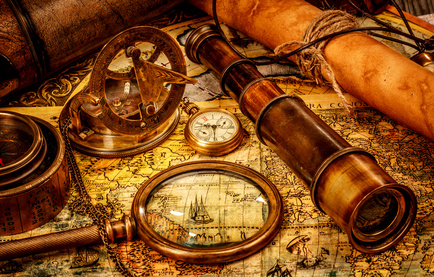 We are living in the era of unlocking hidden potential.  Uber set up a marketplace and now unlocks value in both unused vehicle seats and good drivers with time on their hands.  Big data projects go to work mining out value by looking into massive (& valuable) troves of unstructured information behind the firewalls of firms.  Internet of Things projects turn the tables on product manufacturers by placing network intelligence in charge of their products and creating solutions where stand-alone devices once existed.
Our firms have hidden value in them, as well.  In nearly every firm, there are high-value projects that go unseen.  These can be changes and improvements in products and services that are observed by insightful team members or larger shifts that customer-facing team members pick up on early.  The irony is that many of these never see the light of day because they don't ever achieve the "escape velocity" needed to get them into the hands of members of the group that can pull them into an actionable agenda.
Why is this important and why now? Since the last economic downturn, we have spent a lot of time in organizational life building massively competent, very focused and largely vertical organizations.  We have optimized stage gate systems, built superb product management teams, deployed SAP, and cleaned up sales using Salesforce.com.  We have refined each of the competencies in the firm.  All this great optimization work has paradoxically created a huge, high-value opportunity at the integration level.
The new competitive battleground is at the practice layer of the firm. It will be fought with the ability to join and deliver new value propositions in service of the customer.
This all leads to a truth that I am working with client firms to unpack.  It's not just enough to have a robust R&D team or some innovative partners.  To be effective, firms need to have a robust plan, that uses very personal leadership, for accessing the value they are creating.  When I work with firms, we talk about the "option value" of the work they have matured in R&D, but have not applied to the core operation.  In a perfect world every innovation would be brought forward and placed into the solution.
The truth is that life is imperfect, and it's the product manager's job to build a roadmap in service of the customer based on what the customer really needs right now.  By doing this, large amounts of work is put on the shelf.  When the portion of the firm chartered with new ideas overperforms, a stunning amount of "reserve" value can be created that never makes it into the product.  When our customer avatar or profile is fresh and vibrant, this is a good thing.
Where this gets sideways is when a product group gets out of sync with what the vibrant and emergent needs are in the market space.  When this goes on systematically for a long time, you hear about issues like the legendary Xerox parc issues that gave rise to the Macintosh and its decades of success.
When this happens the only way forward is human intervention by a very specific set of individuals that we have been terming Growth Leaders.  The growth leader is the person that is very skilled at crossing the firm's resources together horizontally.  This needs to be done in service to a very specific and emergent customer.
Recent books like "Deal Storming" and "Sprint" are pointing to the bigger issue, that every innovation team within a firm needs to be attached to a growth leader.  Each of these shows the way to build tight cross-functional teams and quickly experiment and test to seek new to the business and frequently new to world solutions.  In each case, the solution is to build a tiger team that integrates across the firm, chartered with finding and using all the assets to create something that is fresh and new.
So what then to do, specifically?
Create a regular cadence of horizontal teams that are charged with activating value for a specific group of customers.  You can use tools like the 5x5x5, or processes from here or here.
Take the learnings from those teams and cook them back into the organization to renew your customer profile.
Finally, something to think about:
Just how much untapped value is inside your firm, waiting for the right catalytic talent to unlock it?
Are we really getting the best ideas to come forward, or only those from the boldest voices?
If this discussion has struck a chord, and you'd like to talk about how to activate this in your firm, give me a call at 847-651-1014 or drop me an email to have a 20-minute talk about your specific applications and challenges.
Related posts you can benefit from…

Did you enjoy this blog post?
Sign up to get access to Scott's monthly innovation newsletter and blog post.