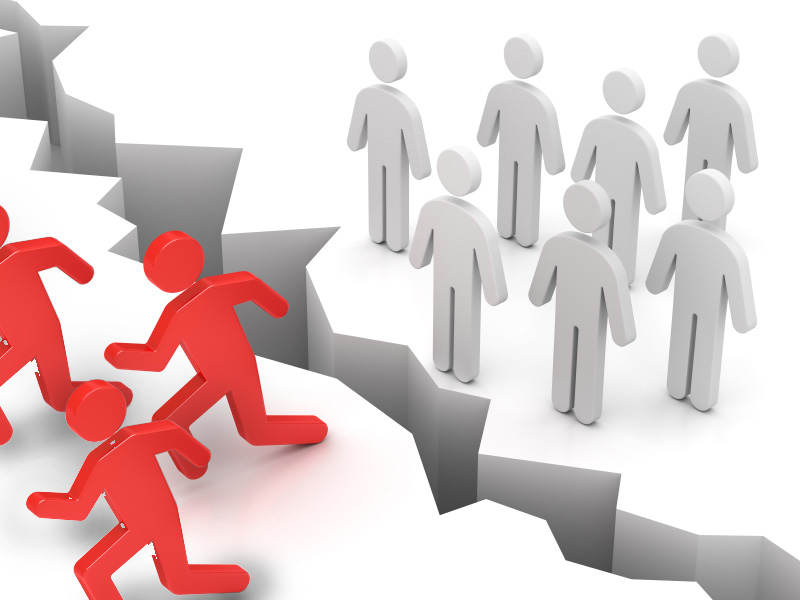 This is the fourth post in a series to amp up your ability to see and exploit massive external change waves.
Up through this point in the series, we've looked at how to map and forecast change cycles that are happening in the world around us. Going forward, we're going to look at what an organization can do internally to capitalize on these insights. This post marks the shift from external understanding to internal actions.  I firmly believe that most major issues in programs are made in the first few hours of their lives.  Those early decisions are very important, and depend on having a good team and solid commitment in place for the project.
For this post, I am going to focus on the human structure needed to carry out the change.  In other words, I am assuming at this point that you have clarity around objective and scope of the work that needs to be done.  If you need a bit more background on planning, please take a look at this post on getting clear on team objectives.
Meeting the Change Wave Begins With a Team
Insightful analysis only profits the organization that takes the risk and commits resources to harness it.
Pencils down – planning complete.  Now it's time to invest in the human resources and organizational tools you need to deliver improved profitability and growth opportunity for your investors and employees.  What you need, is to build the breakaway team that can land on the next island of profit, then establish and nurture a new center of growth.
Over the arc of my 30 years with Fortune 100 players, I've observed patterns that provide a map of the murky territory before us.   Once you have clearly articulated the challenge, outcomes and benefits, the next thing you need to do is put together that breakaway team.
A breakaway team that can create an outcome that scales is more in demand than ever, but change leaders, beware: many well-intentioned efforts to send a team out to harness change waves do not work. This is because when well-intentioned change meets a resistant, embedded culture, the culture usually wins.
What follows are the five key elements that will plant and water the seeds of new growth — and give it the muscle to hang on for dear life as these change waves take off for shore.
Organic step change is about crisply and intentionally building new internal capabilities to deliver either a new product to your current market or a current product to a new market.  Done well, the new revenue flows will dramatically increase your sales and profitability.
Here's what you need to start a process of organic step-change in your company:
1 – The Leader
Every change team needs a well-grounded, visionary leader with the ability to "manage up" and the persistence to execute.  This person needs to be an expedition leader, not a tour guide.  He or she should be the best the company has in three quadrants: vision, people and results with a track record of making solid intuitive decisions. This person also needs to be able to seamlessly move across organizational boundaries and develop rapport quickly. They should know the "system" and be able to use it, but have the common sense to work around it as necessary. This person attracts good team members and has access to the top ten players inside and outside your organization. Finally, they should be promotable since, if successful, you'll want to recognize them and place them in a position of more influence.
Don't make the mistake of choosing the person who likes to play with shiny objects as the leader if they don't have the basic skills.  The right person is likely the highest potential individual on your staff – someone you can see in your chair.  You also don't want to make the mistake of thinking someone is too busy to take on this role –  always ask him or her and be willing to find someone to take over what they are doing now.  If you don't do this, you run the risk of your best candidate jumping ship down the road.
For further reading on building great teams, my colleague Les McKeown's work on the predictable success based teams has more great insights on this topic.
2 – The Senior Team
Truly organic change also needs a senior team that recognizes the need to continually move the business to new models with higher option value. Corporations are constructed from multiple profit centers that are either acquired or grown internally.  The strongest pull inside corporations is investing in the core value proposition because it's well-traveled territory and forecasting ROI is usually a linear correlation.  But the processes that got you to your current state won't propel you to new profit centers.  Entering new territory requires developing new ideas and systems.  If you would like to study the breakthrough process more deeply, pick up a copy of The Breakthrough Company.
The true role of a senior leader is guiding the organization to new markets, products and solutions that keep the organization vibrant.
New profit centers in growing organizations are planted on purpose.  Intuit Software is a solid example of planting serial value propositions. The company was founded on DOS-based Quicken and then made several quantum leaps to Windows, Mac and then the web. Turbo Tax was a great portfolio addition that required a large shift, and finally as the small business market was booming, so did Quickbooks. These were not linear steps, but leaps that were intentionally chosen.
It is the responsibility of senior leadership to create the culture – and provide the guidance – to take the risk to move from one island of productivity to the next.
3 – The Air Cover
New ideas need effective air cover from the day-to-day demands of the existing enterprise.  Very good academics have documented that planting a new value proposition inside a business is a full-time job.  You need to have the best and the brightest members of a lean team waking up every morning to move this work forward.
The senior team needs to run the breakthrough activity with a different set of leadership structure and incentives:
Set the plan and let the team execute.  Agree in advance with specificity on the outcomes that engender success and give the group late latitude in how these are completed.  Provide disciplined, regular high-level reviews where all stakeholders get an opportunity to review progress and recommit.
Do not over commit funding and investment until you have systematically invested in removing risk.  One of the big mistakes is to set up a large team predicated on success of the full effort, assuming that the critical path issues will be resolved.  A much better plan is to focus all your resources on the critical to function problems sequentially, setting very specific investment limits.
Keep the usual overhead of the core functional organization off the field in a make-sense way. Things like lengthy customer acquisition processes, quality systems, and financial system enhancements need to be set aside.
Be a blockade removal tool as necessary.  The core organization will test management's resolve directly and indirectly.  Make it clear that tradeoffs need to be elevated and resolved quickly.
4 – Leanness
This should be a lean team, with a very specific role for each team member and a minimum amount of management.  These teams are addressing complex change issues and the communications need to be clear, simple and direct.
In large organizations, these initiatives can attract non-value added managers like moths to a flame.  Management needs to be strong and present to keep the team small —  but at a minimum-viable level.  A good model for a medium-sized program is to establish the leader by finding the best player-coach on the team, and then establishing a "mini Board of Directors" made up of the sponsoring senior leadership team.  This mini BOD needs to include all areas of the organization that would be affected if the new business model runs to completion.
Once the above is done and a plan is completed, the leader needs to be allowed to recruit the best talent available to participate on the team. This will be hard, but consider that getting a top team is the first proof-point to success.  It speaks volumes to the rest of the organization if the staff of your breakthrough team is not the best of the best.
The maximum size of the team, even for very large projects, should be capped at 150 (Dunbar's number).  That has been shown to be the largest organization that a very strong leader can guide while still maintaining razor-sharp effectiveness.  One team I spoke with has the two-pizza rule – if it takes more than two pizzas to feed the team, break it into two groups.
5 – Commitments
The seeds of change require a commitment of resources that go beyond simply financial for a sufficient amount of time to ground the new value proposition in the existing structure.
This is a time to be lean, but not stingy.  You need to pull your best growth-oriented people in to lead and contribute to this effort.  It will be painful at first, but the dividends will be huge — you will find that if the depth chart in the core business is robust, your best and brightest will be energized like you have never seen before.
You need to give the team the tools they need. If they need consultants, find them. If they need lead customers, make sure sales opens the doors. If you need new skills, use your own network to find them. If the option value is high enough, make the investment.
There will be a dark night of discontent. They will hit a wall, and your resolve will be tested.  It's at this time that you and the men and women that are part of the team will grow the most.  Nine times out of ten you will find your way through, or in the rare case you cannot, you'll likely find what lean practitioners call a pivot into the right next step.
Building change muscle in your organization may be the best investment you ever make.
You have the analysis tools to understand the external change waves your industry is in, and a high level road map to build a team to capture them. Next, I'll go into more detail on internal growth and renewal, and then in the final post in this series, we'll tie the waves together: matching your internal change wave to the external change wave.
Are you finding useful insight here?  Please drop me an email or tweet me with your thoughts.

Did you enjoy this blog post?
Sign up to get access to Scott's monthly innovation newsletter and blog post.