Above: Scott Propp speaking about truth and courage on the front lines of innovation at the 3M Innovation Center in Minneapolis.
Where is your next new growth business? How can your organization quickly move from merely surviving to thriving in today's fast-changing economy?
Scott Propp answers these questions in his keynotes and strategy sessions.
An MBA, engineer and change agent, Scott Propp shows you how to introduce and drive innovation, creative thinking and lean execution even within large, complex organizations whose cultures can hamper swift, smart progress and profitability. He'll help you find hidden profits you can tap today as well as lay out an innovative path to a bright and profitable future.
Scott Propp has a strategic eye that is grounded by deep operational and technical organization know how."  Lee Callaway | AT&T Mobility
Book Scott for Your Next Event
Scott is one of the talented few who knows how to spot and leverage technology trends into the marketplace."  John Bobo | Nascar
KEYNOTES
 The Growth Zone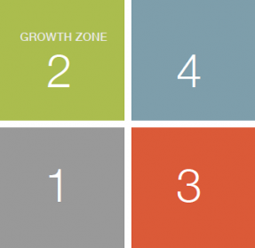 How can you confidently develop a growth path and leverage resources you already have to execute it? Using the Growth Zone framework, you can find a new product or offering that fits your business model, your market and your capability.
Who will benefit: Mid-sized businesses and Founder/Owners with a profitable first offering whose goal is to establish a thriving second offer.
As a result of this session: You will find out how to build your firm's unique capabilities into several business maps that will allow clear cross-functional discussion. You will also leave with a solid understanding of existing value elements in your organization you can capitalize on now to meet new market and customer trends.  Finally, you will leave with a concise list of next steps for putting your business plan into action.
Scott has the unique ability to make the complex simple and create an inclusive environment for an entire team."  Julie Williams | Sherpa Marketing
Small Team | Big Impact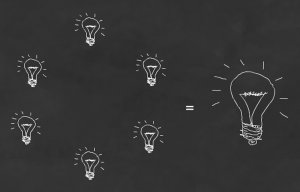 How do you find and equip your growth leaders? How do you empower them with the skills and passion to take your organization to the next level… and overcome internal resistance to execute on large-scale value?
Who will benefit: SBU SVP's, VP's and their staffs, CTO's, Lab Directors, Product Planning & technology planning executives, operations executives that support new products, strategic sales leaders.
As a result of this session: You and your leaders will be able to:
Find the hidden growth leader talent in your organization – and understand how to engage and retain them
Learn specific tools and techniques to avoid the "Big Miss" – and the resulting loss of investment dollars and talent that comes from early over commitment
Identify approaches to make the most efficient use of your scarcest strategic resources
Gain strategies and techniques to build "a container" for the breakthrough team to be successful
In his strategy sessions with us, Scott has assisted our team greatly in our efforts to become a lean start up that is not simply surviving, but thriving."  Bill Weber | 3D Centrifuge
Public Speaking Engagements
August 6, 2018 Private Workshop, Washington DC
June 4, 2018, Private Workshop, Washington DC
May 23, 2018, Vistage Workshop, Green Bay, WI
May 11, 2018 Vistage Workshop, Green Bay, WI
April 10, 2018 Private Workshop, Washington DC
March 30, 2018 Vistage Workshop, Green Bay, WI
March 7, 2018, Private Workshop, Washington DC
February 28, 2018, Private Workshop, Seattle WA
January 29, 2018 Private Workshop, Nashville TN
January 24, 2018, Center For Executive Leadership – St Norbert College, Green Bay, WI
December 11, 2017, Private Workshop, Washington DC
November 27, 2017, Center For Executive Leadership – St Norbert College, Green Bay, WI
November 15, 2017, Center For Executive Leadership – St Norbert College, Green Bay, WI
October 6, 2017, Private Workshop, Minneapolis, MN
September 25, 2017, Private Workshop, Washington DC
August 30, 2017, Center For Executive Leadership – St Norbert College, Green Bay, WI
August 17, 2017, Private Workshop, Washington DC
August 3, 2017, Clean Tech Open Workshop, Finding the Product Market Fit
July 10, 2017, Private Workshop, Washington DC
June 28, 2017, Private Workshop, Minneapolis, MN
June 12, 14, 2017, Center For Executive Leadership – St Norbert College, Green Bay, WI
May 31, 2017, Private Workshop, Seattle WA
May 25, 2017, Private Workshop, Houston TX
May 23-24, 2017, Water Leaders Summit 2017, Milwaukee, WI
May 18-19, 2017, Private Workshop, Washington DC
May 8-10, 2017, Inc, Grow Co., New Orleans, LA
May 2-3, 2017, Private Workshop, Denver, CO
April 26, 2017, Private Workshop, Omaha NE
March 29, 2017, Guest Lecture – Entrepreneurship – the University of Wisconsin – Milwaukee
March 29, 2017, Center For Executive Leadership – St Norbert College, Green Bay, WI
March 22, 2017, Private Workshop, Houston TX
March 16, 2017, Private Workshop, Washington DC
March 13, 2017, Center For Executive Leadership – St Norbert College, Green Bay, WI
February 28, 2017, Private Workshop, Fergus Falls, MN
February 15, 2017, Private Workshop, Houston. TX
January 26, 2017, Public Webinar, Mastering the Five Stages of The Growth Leaders Journey
January 18, 2017, Private Workshop, Des Moines IA
January 4, 2017, Private Workshop, Houston TX
December 14, 2016, Private Workshop, Omaha NE
December 5, 2016, Guest Lecture "Using business life cycle insight to create a powerful entrance to your engineering career"  University of Wisconsin-Milwaukee, Milwaukee, WI
November 22, 2016, Private Workshop, Fergus Falls, MN
November 17, 2016, Private Workshop, Washington DC
October 20, 2016, Private Workshop, Washington DC
October 19, Inc 5000  Predictable Success Deep Dive: The Complexity of Fast Growth—How Not to Be Overwhelmed, San Antonio
October 12, 2016, Public Webinar, The Complete Growth Leader
September 29, 2016, EO Nerve, Boston MA, Predictable Success Deep Dive
September 23, Private Workshop, Predictable Success, Denver CO
September 20, 2016, Private Workshop, Fergus Falls, MN
September 8, 2016, Private Webinar, Des Moines IA
September 17th, 2016 Private Workshop,  Milwaukee WI
September 1st, 2016 Private Workshop, Milwaukee WI
August 30, 2016, Private Workshop, Washington DC
August 23, 2016, Private Workshop, Des Moines IA
July 20, 2016, Private Workshop, Des Moines, IA
July 6, 2016, Private Workshop, Fergus Falls, MN
June 6, 2016, Private Workshop, Washington DC
June 2 & 3, 2016, SCPD Annual Conference, Maplewood, MN
May 19, 2016, Public Webinar, The 3 Essential Ingredients for Successful Growth Projects (click on link for mp3 replay)
May 19, 2016, Midwest Solar Expo, Panel Moderator, Minneapolis MN
June 6, Private Workshop, Washington DC
May 9, 2016, Private Workshop, Washington DC
April 19, 2016, Predictable Success Public Workshop, Los Angeles CA
March 30, 2016, Private Workshop, Montreal Canada
February, 25th, 2016 Private Workshop, Fort Lauderdale, FL
January 11, 2016, Private Workshop, Washington DC
January 7, 2016, Private Executive Offsite, Des Moines, IA
December 17, 2015, Private Workshop, Nashville TN
December 9, 2015, Private Workshop, Milwaukee, WI
December 2nd, 2015 Predictable Success Acceleration Program, New York, NY
October 20th, Private Workshop, Nanjing China
September 29&30, 2015 Predictable Success Acceleration Program, San Francisco, CA
September 17th Predictable Success Webinar – Break Through the Barriers to Execution
August 24, 2015, Private Workshop, Annapolis, MD
June 26, Private Workshop, Annapolis MD
June 17&18, 2015 Predictable Success Acceleration Program, Washington, DC.
May 1, 2015, Inspire, Minneapolis, MN
April 22 & 23, Predictable Success Acceleration Program, Atlanta, GA
April 10, 2015, Private Workshop, Annapolis, MD
April 7, 2015,  Predictable Success Keynote for NAICC, Newton, IA
January 14, 2015 "ShopTalk" Manufacturing Networking Group, Minneapolis. MN
January 8, 2015, Vistage International CEO Circle, Minneapolis, MN
January 7, 2015, Vistage International CEO Circle, Minneapolis. MN
December 4th & 5th, 2014 Predictable Success Acceleration Program, Inc Headquarters, NYC
October 27, 2014, PMI Global Congress 2014, Phoenix, AZ
October 7, 2014 – Minnesota Business Owner Conference Minneapolis, Minnesota
September 23, 2014, Washington, DC Vistage CEO Group
August 15, 2014 –  "C" Group – Minnetonka, Minnesota
June 24/25, 2014 – 3M Innovation Center, SCPD National Conference, St Paul, Minnesota
May 5, 2014 – PMI Regional Symposium – Edison, New Jersey
March 19, 2014 – PDMA Minnesota – Moderator Minnesota Data Analytics Panel – Minneapolis MN
Sep 26, 2013 – Minnesota Innovators & Entrepreneurs Meet Up Group
Aug 22, 2013 – Vistage CEO Workshop – Minneapolis, MN
Aug 20, 2013 – Vistage Key Executive Workshop – Minneapolis, MN
Aug 20, 2013 – Reach The Suite – Minneapolis, MN
Aug 7, 2013 – CBMC Northland – Strategy Workshop – Minneapolis, MN
July 16, 2013 – Vistage CEO Workshop "The Growth Zone" – Los Angeles, CA
April 24, 2013 – WPO Chapter – "The Growth Zone" – Chicago, IL
April 22-24, 2013 ITS America Annual Meeting – Moderator – Nashville, TN
April 16, 2013 – WITI Webinars, "The Growth Zone: How to Spot and Be Chosen to Lead Breakthrough Projects in Your Organization" April 16, 2012 
January 17, 2013 – IFMA Small & Mid-Sized Business Strategy Call
January 16, 2013 – PDMA Minnesota Meeting, "The Growth Zone", Minneapolis, MN
December 2012 – Vistage Key Employee and CEO workshops, "The Growth Zone," Minneapolis, MN
October 2012 – The Technology Innovation Summit, Panel Expert on Emerging Innovation Trends, Chicago, IL
April 2010 – GreenTech Media "Motorola Takes a Minimal Approach to Smart Grid," Charlotte, NC
April 2010 – GigaOm Green: Net Conference, Panel Expert on Smart Grid Communication Trends, San Francisco, CA
January 2008 – Consumer Electronics Show, Expert Panelist on Connected Vehicle Communications, Las Vegas, NV
October 2007- ITS Word Congress, Keynote, Beijing China
March 2007 – ITS Minnesota, Luncheon Keynote, "Technology trends in vehicular communications," Minneapolis, MN
Book Scott for Your Next Event